Enterprise Backup and Cloud Based Backup
Enterprise Backup Powered by R1Soft Continuous Data Protection
All too often the backup architecture in the enterprise becomes a management nightmare, and users are not sure if, how and what is backed up. Has your enterprise tech support team ever had a backup related call that went like this?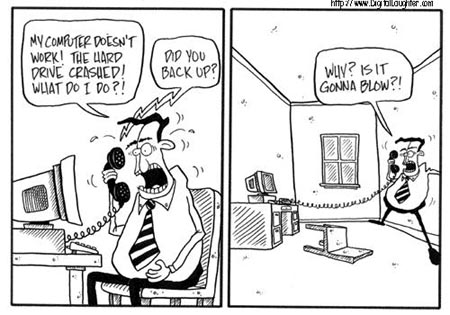 We are proud to use an enterprise backup solution that massively scales. No wonder over 1,000 cloud providers are using it. Our enterprise backup solution is a secure and private backup solution that can scale in volume and across complex network boundaries and geographies.
Enterprise Backup: Highlights
Minimal backup windows last only minutes
Highly Scalable – 30+ servers per repository
Centralized Web-based administration allowing to centrally manage all your servers' backups
Bare-Metal Restore
Individual encryption key of each disk safe requiring encryption
Multiple levels of compression for best balance between performance and compression ratio
Private or Multi-tenant backup repositories
Single or Multi-user backup repositories
Over 200,000 Windows and Linux servers in the world's largest data centers are protected by R1Soft for server backups.
High-performance disk-based backups
Improve recovery point objectives with CDP
Affordable – Leave no servers unprotected
Increase virtual machine storage performance
Restore VMs faster with Bare-Metal Restore
Compatible with Xen, Hyper-V, KVM, Virtuozzo, VMWare
Available for Windows and Linux environments
Maximum data protection for MySQL databases
MSSQL native backup support
DB2, Oracle and PostgreSQL backup using both the native database backups tools and the volume snapshot combined with log file bakcup (requires native db log roll-forward/recovery before database is available after bare metal restore)
Enterprise Backup: How Does it Work?
Our software engineers design a solution with simplicity in mind. We make sure that the backup infrastructure we design will meet the need of each enterprise today, while allowing scaling for tomorrow. Once deployed, the management of your backup infrastructure is easy to use, so that you can easily and reliably backup and restore your mission critical data.
We take care of installing the backup agents on each server, and test the network to enable seamless backups of your fleet of laptops, workstations, and servers. For advanced users and network setups, we provide full control over managing your disk safes, retention policies, as well as local and remote backup servers.
Only those that know your secret encryption password for that specific backup schedule can see the file names and the contents of your backups.
Enterpise Backup: Pricing
The following table has month to month backup pricing for our cloud based backup offering:
| | | | |
| --- | --- | --- | --- |
| Qty up to | Description | Unit price | Tier total |
| 5GB | 5GB of disk included in base subscription of $5.00/mo | $0.00 | $5.00 |
| 10GB | Up to 10GB of backup space | $1.00 | $10.00 |
| 100GB | Up to 100GB of backup space | $0.50 | $55.00 |
| 1TB | Up to 1TB of backup space | $0.25 | $280.00 |
| 10TB | Up to 10TB of backup space | $0.15 | $1,630.00 |
| 100TB | Up to 100TB of backup space | $0.10 | $10,630.00 |
| 1PB | Up to 1PB of backup space | $0.08 | $82,630.00 |
Custom enterprise backup solutions are built on the following building blocks
Fully managed server backup agent with license: $20/mo
Fully managed backup storage server with license (up to 300TB capacity): $250/mo
Fully managed central control server with license (up to 300 storage servers or 90BP of backed up data): $950/mo
Custom enterprise backup solution examples
Fully managed 100TB backup server allowing 20 servers to be backed up: $5,650/mo (with 1 year contract and $2,500 setup)
Fully managed 300TB backup server allowing 100 servers to be backed up: $9,950/mo (with 3 year contract and $12,000 setup)
Fully managed 1PB backup server cluster allowing 200 servers to be backed up: $17,500/mo (with 3 year contract, and $60,000 setup).
Please see our other data-warehouse solutions and do not hesitate to reach out to us so we can custom build the solution that's right for your organization, minimizing your costs, while maximizing the reliability and flexibility of your enterprise backup infrastructure.
This post is also available in: Hungarian